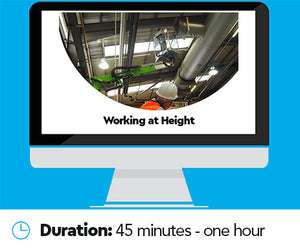 SOCOTEC
Working at Height Online Training Course
Regular price
£20.00
£0.00
Unit price
per
Enquire below if you are booking this course for more than 20 people. 
What is Working at Height Online Training?
According to the Health and Safety Executive (HSE) " Working at height remains one of the biggest causes of fatalities and major injuries. Common cases include falls from ladders and through fragile surfaces. 'Work at height' means work in any place where, if there were no precautions in place, a person could fall a distance liable to cause personal injury (for example a fall through a fragile roof)."
In 2013/14 falls from height were the most common cause of fatalities, accounting for nearly three in ten (29%) fatal injuries to workers (RIDDOR – Reporting of Injuries, Diseases and Dangerous Occurrences ).
The Working at Height Regulations 2005 requires all 'working at height' tasks to be properly planned.  Those carrying out the work need to be competent.  All risks have to be assessed, and appropriate work equipment selected, used, inspected and maintained.
This Working at Height Online Training course fully explains what constitutes "working at height".  Also, it details what is classed as a dangerous height and provides everyday examples. Additionally, it allows you to the raise awareness of the risks associated with low level falls, and improve the risk perception of low level working at heights.
The course is perfect for training employees in proper safety practices and in the use and maintenance of any equipment required to ensure they are working safely at height.
By completing the Working at Height Online Training course, users will learn the importance of fall prevention, protection systems and procedures to prevent the fall of objects. Users will have a sound understanding of the" Hierarchy of Control" – Avoid, Prevent and Reduce.
This course is aimed at any employees or contractors who are likely to be working at heights during their day to day activities.
Course Objectives:
To describe some situations that involve work at height.
To highlight the dangers of work at height.
To explain how different equipment can be used during work at height.
To detail safe working practices for work at height.
Once the 45 minute course is completed, users must take a final test consisting of 10 questions. The final test has a minimum pass rate requirement of 70%. On successful completion of the test, users can download and print off a completion certificate.
---
choosing a selection results in a full page refresh