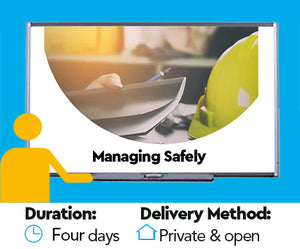 IOSH
Managing Safely® Training Course
Regular price
£3,795.00
£0.00
Unit price
per
Managing Safely is a fully accredited IOSH course which focuses on training managers to apply sound management principles to health and safety issues as part of a total management strategy.
The Institution of Occupational Safety and Health (IOSH) offers a fully accredited course that provides candidates with an internationally recognised qualification in the management of health and safety at work. As the world's largest health and safety organisation, IOSH Managing Safely provides in-house training that teaches managers how to understand and demonstrate their commitment to occupational health and safety standards.
This course is available at a location of your choice for up to 12 delegates per course. Please enquire below if you are interested in booking a private course. 

• Suitability: All staff in a supervisory, line management or team leader role
• Experience: No prerequisites required
• Duration: Four days
• Number of modules: 7
• Assessment: multiple choice test and practical risk assessment
• Teaching method: In-house, online or at various SOCOTEC's training facilities across the UK
Recommended for staff in a line management, supervisory or team leader role within an organisation of any size/sector, the four-day course reinforces why occupational health and safety is such an integral part of a managerial position and across an entire organisation.
Candidates will be able to recognise workplace hazards, apply a hierarchy of risk control, understand requirements of HSE legislation and recognise ways to monitor and improve performance in occupational health and safety standards across their team.
IOSH Managing Safely course structure
As a valuable way of enhancing your staff's IOSH CPD (Continuing Professional Development), course content may be tailored to meet the needs of each individual business. There are 7 modules in total which cover Introducing Managing Safely, Investigating Accidents and Incidents, Human Factors, Assessing and Controlling Risk, Understanding Manager Responsibilities, Common Hazards and Measuring Performance. Click here to view the IOSH Managing Safely syllabus in full.

IOSH Managing Safely is split into two units that consist of 22 learning hours in total – one taught module and one work-based assignment – with no prerequisites required. As part of the second unit, candidates will be required to undertake a 45-minute multiple choice test comprising 30 questions, followed by a practical workplace health and safety risk assessment which will demonstrate the application of knowledge that candidates have acquired over the course. The practical assessment must be completed no later than two weeks after passing the theory test.
Upon successful completion of IOSH Managing Safely, candidates will be equipped with the knowledge, tools and confidence to effectively deal with a range of occupational health and safety issues within their role and across the teams they manage. They will also be awarded a formal certificate as proof of their newfound ability to apply effective principles and practices in the management of health and safety at work.
In-house training on your premises forms part and parcel of the IOSH Managing Safely course. Up to 20 delegates are permitted to attend the training at a time, but we recommend group sizes of 12 to 15. Candidates can expect bespoke, focused teaching that can be tailored to their individual learning needs. Businesses will be provided with a flexible choice of dates and times, with the opportunity to train at their own premises or a location of their choice. A qualified trainer, projector and all training materials will also be provided, saving valuable time, money and resources. If you do not have a training room available, one can be located in close proximity to your business. Alternatively, delegates are welcome to use SOCOTEC's training facility in Northamptonshire.
For more information on IOSH Managing Safely, as well as SOCOTEC's wide range of online, in-house and training facility courses, contact us
here
.
IOSH Managing Safely – course overview
• Introducing IOSH Managing Safely
• Investigating Accidents and Incidents
• Human Factors
• Assessing Risk
• Controlling Risk
• Understanding Manager Responsibilities
• Understanding Hazards
• Measuring Performance
Read the full IOSH Managing Safely syllabus
here
.
Please note that there is an additional price per delegate fee for this course.
---
choosing a selection results in a full page refresh