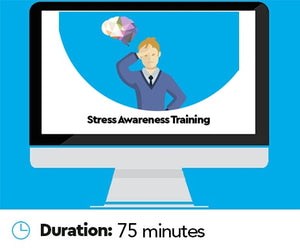 SOCOTEC
Stress Awareness Training
Regular price
£20.00
£18.00
Unit price
per
What is stress?
Stress can be described as an emotional or mental state caused by adverse or demanding life events or situations. It affects everyone and can impact all areas of our lives, including detrimental effects on our mental and physical health. Statistics from the HSE suggest that there were almost 10 million working days lost due to work-related stress in the UK, which costs the economy almost £5.5 billion.
How do you increase your stress awareness?
Before we can practice managing stress, it's important to explore some of the causes of stress, something which this Stress Awareness course aims to do. Stress is something that affects all of us. However the causes, impact and level of distress is different for everyone. It is important to recognise that individuals will have different reactions and interpretations of stressful situations, and as such this course aims to explore some of the factors involved in this process, such as emotional, physical, behavioural and cognitive responses.
It is also important to be able to recognise some of the most common causes of stress, to help support and develop the wellbeing of your employees and those around you. This course explores ways in which you can analyse and assess work-related stress and how you and other employees can identify and manage it. The Stress Awareness online course provides techniques and guidance on how to relieve and deal with stress, with ideas such as yoga, positive thinking and deep breathing. Not only is it important to deal with stress when it arises, but also to build and maintain a healthy lifestyle, and the link between this and managing stress is also discussed. Furthermore, information and guidance on how to gain more advice and support is provided as part of this training.
Key Points
Suitability: All audiences
Experience: No prerequisites required
Duration: 75 minutes
Assessment: Online final test
Teaching method: Online
Aims/objectives of Stress Awareness training
This Stress Awareness training aims to increase delegates' understanding of the causes and impacts of stress, along with providing guidance on how to manage and relieve stress. It also provides information on how to seek advice and support to help you to reduce stress levels.
Stress Awareness course objectives:
To explain what stress is and the impact it can have on the mind and body.
Consider how organisations can be affected by stress and how they can manage the impact.
Explore how organisations can analyse and assess work-related stress.
Teach the important techniques for stress relief, and ways in which individuals can manage stress effectively.
Structure of Stress Awareness training
The Stress Awareness course uses interactive tools and animated instructions in order to help delegates develop an understanding of stress and its impact upon individuals and organisations, along with incorporating important stress relief techniques into daily life.
Stress Awareness course outcomes
Upon completion of the Stress Awareness online course, delegates will be able to:
Understand what stress is, and how it can impact upon the mind and body
Consider work-related stress, such as the impact on organisations and tools to manage this, including analysing and assessing work-related stress
Engage in stress relief techniques, and understand how individuals can manage stress effectively
Who is Stress awareness training suitable for?
The Stress Awareness course is ideal for anyone who wants to increase their understanding of stress, and the different reactions and interpretations of stress individuals can have when experiencing stress inducing situations. It is also useful for those wanting to gain techniques to help manage and relieve stress. 
Overview – Stress Awareness
Main sections in Stress Awareness online training include:
Course overview
Work-related stress
Stress relief
Managing stress
Final test – 10 questions
Once you have completed this 75 minute Stress Awareness course and have completed the final test you will be able to download and print your completion certificate.
Looking to book online Stress Awareness training for over 20 people? Use the form below and we'll get back to you with a quote.
---
choosing a selection results in a full page refresh