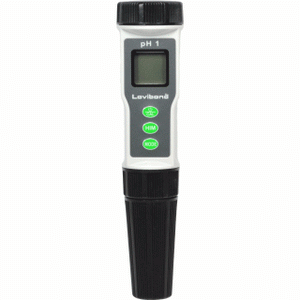 SOCOTEC
pH meter
Regular price
£220.00
£0.00
Unit price
per
What is a pH meter and what is it used for?

A pH meter is an electric tool used to measure hydrogen-ion activity (acidity or alkalinity) in liquid solutions. Providing fast, reliable results, the pH meter determines the rate and results of chemical reactions taking place in the solution.
How does a pH meter work?
The pocket waterproof tester will float in water and give you the flexibility to monitor water conditions in rugged conditions.
 The Lovibond pH1 meter uses the unique flat electrode which means it is very robust. It displays pH and temperature simultaneously along with the battery life. It will read from -2 to 16.00 at a resolution of 0.01 pH and has ATC. The unit only weighs 85 grams and has an auto shut off feature. The pH1 can also be used with the RE1P probe to allow the meter to measure redox in mV from -1000 to 1000 mV.
 Where can a pH meter be used?
A pH meter can be used to measure pH levels in water, wastewater treatment, medicine, chemicals, manufacturing, chemicals, health care, swimming pools, hot tubs, food and beverages and soils.

Additional information

pH cells are not designed to be stored in dry conditions and can only survive in such an environment for a short period of time. To test the functionality of a pH meter if it has been exposed to dry conditions for an extensive period, fully immerse it into the solution and check the reading. If it is close to the known pH of the liquid or anywhere else below a reading of 7, it is more likely that the sensor can be revived. However, if the reading is above 7, the sensor will likely be too weak to be revived, and if below 13.6, requires immediate replacement.
Click here to access the datasheet for the Lovibond pH1 meter.
Enquire
The Lovibond pH1 meter is available for purchase via credit/debit card, as well as Apple and Google Pay. Please contact us if you would like to pay via bank transfer or raise a PO.
Contact us
If you are interested in finding out more about the Lovibond pH1 or how SOCOTEC can support you with its wide range of Water Treatment & Hygiene services, click here or contact us using this link.
---
choosing a selection results in a full page refresh