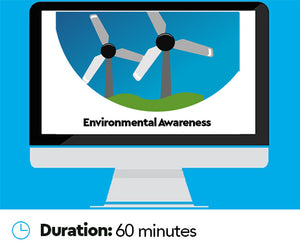 SOCOTEC
Environmental Awareness Training Course
Regular price
£20.00
£18.00
Unit price
per
Why is environmental awareness important?
Environmental Awareness is a key aspect of ensuring the sustainability of our planet. Environmental issues, such as global warming, air pollution and water pollution are all becoming increasingly popular topics of conversation. With the rising number of climate change protests, pressure groups and activists, the UK population is beginning to act in a more environmentally conscious manner.
The introduction of environmental legislation, such as the Environmental Protection Act 1990, made it a legal requirement for businesses to ensure that processes are in place to reduce environmental impact. It is not only important to promote environmental awareness to protect our environment, it also ensures that organisations remain energy efficient. 
How can we improve energy efficiency?
From turning off lights when we leave a room to choosing energy efficient appliances, there are many simple changes that we can make to our lifestyle to ensure we are acting in an environmentally conscious way, many of which are covered in the Environmental Awareness training course.
Key points
Experience: Delegates that conduct energy efficiency audits, or have a general interest in adopting an energy smart lifestyle
Duration: One hour
Assessment: Final test
Teaching method: E-learning.
Aims and objectives
The Environmental Awareness online training courses provides an introduction to the environmental concerns that the global population is facing. As delegates proceed through the course content, this online training will explore the various ways in which to make their work premises more energy efficient, while also demonstrating how they can become more environmentally friendly.
Outcomes
By the end of the Environmental Awareness course, delegates will have gained an understanding of how the introduction of environmental legislation has increased the pressure for organisations to accept environmental responsibility, encouraging many to implement environmental management systems that ensure energy and electrical efficiency (including energy saving lights, solar panels and wind turbines).
Upon completion of the Environmental Awareness training online, delegates are required to take a final test comprising 10 questions. Once they have successfully passed the test, delegates will then be issued with an Environmental Awareness certificate, which is immediately available to download and print.
SOCOTEC's Environmental Awareness training course is suitable for any employee that wants to learn about the various ways they can change everyday actions to promote environmental awareness, as well as how to adopt an energy efficient lifestyle.
The Environmental Awareness training course comprises three interactive modules, followed by a final assessment that delegates must complete to successfully pass the course. The modules are as follows:
Overview
Environmental Issues– Delegates will learn key environmental terms and find out about the causes and effects of different environmental risks, including climate change, greenhouse gases and air pollution.
Personal Measures– Delegates will explore the personal responsibilities individuals should adopt to protect the environment. This module will also highlight a number of energy saving home improvements that can be made to improve home efficiency, including eco-friendly light bulbs, while also learning about the broader range of energy efficient appliances that ensure environmental responsibility.
Final Assessment – Undertake a final assessment covering the entire course content.
If you are booking e-learning for over 20 people, please use the form below and we will provide you with a quote. For bookings of less than 20, please make your purchase online.
---
choosing a selection results in a full page refresh