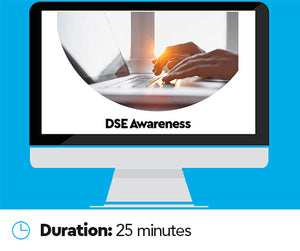 CPD
Display Screen Equipment (DSE) E-Learning
Regular price
£20.00
£0.00
Unit price
per
Enquire below if you are booking this course for over 20 people. 
Short for Display Screen Equipment, DSE comprises all devices or equipment that offer an alphanumeric or graphic display screen, including PCs, laptops, smartphones and tablets. According to the Health and Safety Display Screen Equipment Regulations, employers are required to provide health and safety training for all staff that use this equipment for continuous or near-continuous spells of at least an hour during their working day.
There are many employees that work with DSE on a daily basis who continue to be completely unaware of the potential health risks associated with working on such equipment. These include, but are by no means limited to, musculoskeletal disorders, fatigue and pain affecting the eyes, neck, shoulders, back, arms, wrists, hands and legs. As a result, it is a legal requirement for staff to be provided with the appropriate DSE training in order to prevent these health risks from taking place.  
Key Points
Suitability: Workers of all levels that use DSE daily for an hour or more at a time
Experience: No prerequisites required
Duration: 25 minutes
Number of modules: 4
Assessment: An optional risk assessment can be completed at the end of course
Teaching method: Online
Aims/objectives
The DSE online course highlights the key issues associated with Display Screen Equipment. It provides practical guidance that teaches delegates how to manage their working environment correctly, as well as how to avoid the ill health effects associated with the poor usage of computer workstations.
Delegates will gain a comprehensive understanding as to why DSE training is an important aspect of health and safety, what employers and staff are expected to do under the relevant legislation and recognise how to set up their workstation correctly to minimise the chance of their developing any related health problems in the future.
DSE E-learning – course structure
Please note that the DSE online training course has been specifically designed to provide delegates with awareness regarding the correct set-up and safe practices surrounding Display Screen Equipment, as well as how to avoid the risks posed by poor DSE usage. In order to practically apply the knowledge and skills acquired within this course, delegates will require further face-to-face training.
Delegates will cover a range of safe, ergonomic practices with regards to the use of DSE, including how to properly adjust chairs, screens and lighting and how to arrange desk space. They will also be taught how to adopt the correct seated and standing postures when working on DSE, as well as the importance of breaks and regular changes in activity to maximise their productivity and wellbeing in the workplace.
Outcomes
Following completion of the DSE training course, delegates will be able to identify how to set up a workstation that caters to their individual requirements; recognise how to enforce a comfortable and varied sitting posture; explain the correct use of additional equipment such as a keyboard and mouse; recognise the importance of regular eye tests and be able to practice a series of simple stretching exercises to reduce tension and stress.  
On successful completion of the course, delegates can download their own certificate that proves they are equipped with the relevant knowledge to know how to set up and use DSE in a safe and practical manner. There is no specific expiry date for this certification, but it is highly recommended that delegates renew their training one year after completing the original course.
DSE E-learning – Course overview
Delegates will cover the following content during the DSE online course:
Introduction to DSE – defining DSE, health risks, relevant legislation and why DSE training is important
DSE Assessment – how to carry out a DSE assessment, identifying DSE hazards, evaluating risks, implementing control measures and reviewing assessment
How to Set Up Your Workstation – how to set up the display screen, keyboard, chair, mouse, software, work surface/environment, laptop, tablet and phone
Improving Posture and Wellbeing – the correct position of the head, upper/lower back, arms, wrists, legs and feet, as well as providing information on fatigue, visual problems, eye tests and the importance of regular breaks
Optional content – standing for work, hot desking, using multiple screens and touch screens
Once all of the course content has been covered, delegates can undertake an optional online risk assessment to help them identify issues with their own workstation and recognise the additional measures that can be put in place if any further issues are to arise. If delegates would like to learn more about risk assessments and the integral role they play with regards to health and safety in the workplace, they can also participate in SOCOTEC's Risk Assessment course.

As aforementioned, the DSE e-learning course is available as both a standalone qualification or with the added option of a user-specific risk assessment. This optional assessment unit is priced separately, but if it is purchased alongside the standard Driving Safely course, your organisation will qualify for a significant discount.
Did you know that SOCOTEC offer a vast array of e-learning and in-house training courses? Click here to find out more.  
---
choosing a selection results in a full page refresh