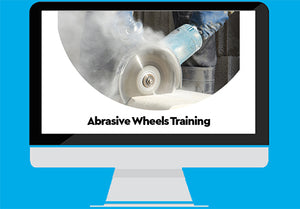 SOCOTEC
Abrasive Wheels Training
Regular price
£20.00
£0.00
Unit price
per
Abrasive wheels are a form of cutting tool made up of small abrasive particles that are bonded together to form structures of various thicknesses for grinding and abrasive operations. Equipment that can be categorised under 'abrasive wheels' include angle grinders, bench grinders, pedestal grinders, cut-off saws, disc cutters and skill saws.
It is estimated that nearly half of accidents involving abrasive wheels occur as a result of unsafe working practices and user error. It is therefore of vital importance that employees that operate this machinery are fully trained to follow safe working practices at all times. In line with the Provision and Use of Work Equipment Regulations 1998, those who operate abrasive wheels are legally required to complete sufficient training that demonstrates their competence in operating abrasive wheels safely and compliantly. 
Key points
Experience: Delegates that operate abrasive wheels as part of their day-to-day role
Duration: One to two hours
Assessment: Final test
Teaching method: E-learning.
Abrasive Wheels Training online – aims and objectives
The Abrasive Wheels online training course provides an introduction to working safely with abrasive wheels, ensuring that delegates gain a full understanding of the hazards and risks associated with working with abrasive wheels. As they proceed through the content, the Abrasive Wheels course will teach delegates the legislative framework, working practices and control measures required to prevent and minimise the risk of injury and ill health.
Outcomes of Abrasive Wheels Training
By the end of the Abrasive Wheels course, delegates will be able to successfully identify the elements of an abrasive wheel and will understand the hazards and risks associated with them. Delegates will also be able to competently and safely store, handle, transport, inspect, assemble, mount and use abrasive wheels, carry out a risk assessment and identify exactly when PPE is required. Finally, they will be aware of the legal/regulatory frameworks, control measures required to reduce or eliminate the risks associated with abrasive wheels.
Upon completion of the Abrasive Wheels training online, delegates are required to take a final test comprising 10 questions. Once they have successfully passed the test, delegates will then be issued with an Abrasive Wheels certificate, which is immediately available to download and print.
Who is the Abrasive Wheels online course suitable for?
SOCOTEC's Abrasive Wheels training course is suitable for any employee that uses abrasive wheels as part of their day-to-day role, such as engineers, builders, floor layers, bricklayers, electricians, carpenters, fitters, joiners and project managers. As no prerequisite training is required, the Abrasive Wheels course is an ideal introduction prior to practical training taking place, or as a refresher for those who have already completed the practical training. However, please note that the Abrasive Wheels training course is not suitable for those mounting abrasive wheels, as this process requires more in-depth training.
There are no mandatory training dates to refresh Abrasive Wheels training, although according to industry best practice guidelines, it is generally recommended that delegates update their knowledge every three years in order to remain fully compliant with current legislation and health and safety guidance.
Abrasive Wheels – course overview
The Abrasive Wheels training course comprises four interactive modules, followed by a final assessment that delegates must complete to successfully pass the course. The modules are as follows:
Introduction to Abrasive Wheels Training – types of abrasive wheels, dangers of abrasive wheels, responsibilities and legal requirements for employers, employees and manufacturers
Abrasive Wheels Risk Assessments – what is a risk assessment and who should carry one out?
Abrasive Wheels Safety – the hierarchy of control, safe working practices, inspections and checks
Further Abrasive Wheels Hazards and Controls – Reporting of Injuries, Diseases and Dangerous Occurrences Regulations 2013 and control measures for noise reduction/vibration, electricity, fire and more.
If you're booking e-learning for over 20 people, please use the form below and we will provide you with a quote. For bookings of less than 20, please make your purchase online.
SOCOTEC also offers a face-to-face Abrasive Wheel course, which is available to purchase via this link.
---
choosing a selection results in a full page refresh