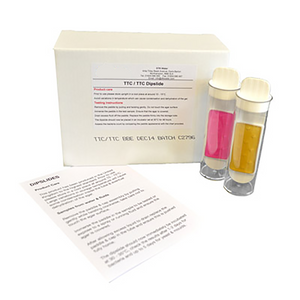 SOCOTEC
Dipslides (boxes of 10)
Regular price
£21.00
£0.00
Unit price
per
What are dipslides?
According to the HSE's Approved Code of Practice L8 and associated HSG274 Guidance documents, dipslides are used as a means of testing for the presence of microbial content in liquids and monitoring the activity of aerobic bacteria. They are frequently used to determine the presence of bacteria and general water quality in cooling and industrial water systems.
What is a dipslide used for?
Dipslides consist of a sterile culture medium on a plastic carrier that is dipped into the liquid or placed onto the surface/swab to be sampled. The culture is then incubated to allow for microbial growth and colonies to form, before a bacterial reference chart is used to determine the number of bacteria in the sample. An appropriate treatment can then be applied to the water source if abnormal levels of bacterial activity are detected.
Why do you need a dipslide?
Dipslides detect the level of bacteria and the 'general health' of a range of water systems, many of which require regular testing in order to prevent bacterial growth (the HSE recommends that you carry out a dipslide test once a week within your cooling tower). If the dipslide detects that high levels of bacteria are present in the sample (maximum plate counts can be found within HSG274), it is strongly recommended that you follow up with further tests to determine if Legionella is present; disinfection may also be required). Please note that a dipslide test kit does not specifically measure for the presence of Legionella, which instead requires a Legionella-specific test.
How does a dipslide work?
The agar is dipped into the appropriate sample and incubated for 24-48 hours, usually at a temperature of 30-35 degrees Celsius. These conditions allow users to easily view and count colonies of bacteria as they grow, with the manufacturer's chart used to reference and compare levels of growth. However, please ensure that the incubation period and temperature is kept consistent at all times, as using dipslides at a variable room temperature could lead to inaccurate results.
When using dipslides for liquid, swab and surface testing, adhere to the following instructions:
Remove the sterile nutrient dipslide, ensuring that no contact is made the agar to avoid contamination
Press the dipslide onto a surface/immerse into fluid for 10 seconds before applying to the sterile swab and gently applying to the agars
Once the dipslide has been placed in contact with the water/surface sample, label the tube, return and secure in the container for incubation
Count the amount of colonies grown on the slide and compare to the comparison chart.
While dipslides are normally used when microbiological activity in liquids is relatively high, applying an effective water treatment regime will ensure that all further dipslide tests that are carried out display a low bacterial reading. Please note that dipslide results should only be used as a rough guide due to the small sample size and the method used to obtain results. As aforementioned, additional tests must also be carried out to more accurately determine specific bacterial strains in liquid-based systems.
What are the benefits of using a dipslide?
Comprising a flexible paddle and a shatterproof, unbreakable container for even and full surface testing, the dipslide test kits are dual-sided to enable multiple contamination testing. Each agar is approximately 4mm thick and raised above the dipslide, ensuring complete ease when surface testing, while individual labels allow for clear identification.
The water testing kit also features a run-off design that allows fluids to drain off quickly during microbial testing, a recessed handle built into the lid to keep fingers dry during testing and a side indicator to allow users to easily determine which side was used for testing which type of contaminant. As well as being simple to use and cost-effective, the dipslide test kit also guarantees quick turnaround times, with results delivered in 24-48 hours.
An incubator is required when carrying out a dipslide test in order to control temperature and ensure accurate results during the incubation period. Incubators are also available for purchase via our online Shop – click here for further information.   
Where can a dipslide be used?
A dipslide test can be used to confirm the presence of bacteria on both surfaces and liquids. It is suitable for use across a broad range of industries and applications, including but not limited to:
Industrial water systems
Classrooms (for educational purposes)
Cooling towers
Food and beverage sector
Wastewater facilities
Laboratories
Metalworking fluid applications
Swimming pools and spas
HVAC and cooling systems
Fountains
Hot water tanks
Additional information
Manufactured to ISO 9001 standards, the dipslide test kits are available in packs of 10 and are able to test across both sides of the slide, allowing for the testing of bacteria across a broad range of liquid applications. They also have a minimum shelf life of six to eight months and should be stored in a cool, dry environment (avoiding refrigerators). Dipslides can also be disposed of by incinerating, autoclaving or soaking in disinfectant such as bleach 24 hours prior.
Dipslides are available for purchase via credit/debit card, as well as Apple and Google Pay. Please contact us if you would like to pay via bank transfer or raise a PO. 
Our standard UK shipping time is 2-3 weeks and costs £15.50. Should you need express delivery or delivery outside the UK, please contact us below.
Contact us
If you are interested in finding out more about dipslides or how SOCOTEC can support you with its wide range of Water Treatment & Hygiene services, click here or contact us.
---
choosing a selection results in a full page refresh