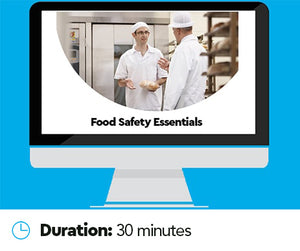 SOCOTEC
Online Food Hygiene Course (Level 1)
Regular price
£20.00
£0.00
Unit price
per
It is essential to ensure high standards of cleanliness when handling and preparing food. The Food Standards Agency (FSA) regulate the standards of food hygiene and safety throughout the UK.
There are various laws regarding food safety at work. The most important piece of UK legislation regarding food safety and hygiene is the Food Safety Act, which outlines information and guidance on how to safely handle and serve food.
High standards of food safety and hygiene are a key aspect of ensuring that food is safe for consumption, and it is important that all individuals who work with food are aware of their responsibilities.Top of Form
Do I need a food hygiene certificate?
Anyone that works in an environment that handles or prepares food should complete a basic food hygiene course.
How do I get a food hygiene certificate?
After completing a basic online food safety course, delegates will be awarded a Level 1 Food Hygiene certificate. SOCOTEC's comprehensive Level 1 Food Safety Training allows you to achieve your food hygiene certificate online.
How long does an online food hygiene course take?
The Food Hygiene and Safety online course takes around 30 minutes to complete. The e-learning course provides clear guidance on the essential rules of hygiene and must be adhered to by all individuals that work with food.
Experience: This course is suitable for delegates that work in an environment that handles food, including front of house staff, checkout employees, waiters and food delivery drivers.
Duration: 30 minutes
Assessment: Final test
Teaching method: E-learning.
The Food Safety online training course introduces users to the significance of food hygiene and the impacts it can have on our health. It is crucial that any organisations that employ staff that work around food ensure they have undertaken food hygiene training and possess a food and hygiene certificate.
By the end of the Food Safety training course, delegates will be able to successfully identify key aspects of food safety legislation, personal hygiene and cleaning methods that should be undertaken when handling food, as well as how to minimise the risk of food contamination.
Upon completion of the Food Safety training course, delegates are required to take a final test comprising 10 questions. Once they have successfully passed the test, delegates will then be issued with a Food Hygiene certificate (Level 1), which is immediately available to download and print.
SOCOTEC's online food safety course is suitable for employees that work in an environment where there is food present. These roles can include:
Front of house staff
Waiters/waitresses
Supermarket checkout members
Food delivery drivers
Warehouse staff.
The food and hygiene course comprises three interactive modules, followed by a final assessment that delegates must complete to successfully pass the course. The modules are as follows:
Overview
Food safety law – delegates will learn about the importance of complying with food safety legislation
Food contamination – delegates will study the health implications of cross contamination and how to minimise the risk
Personal hygiene – delegates will learn about the importance of hand hygiene when handling food
Cleaning – delegates will examine the six stages of cleaning when handling food and the importance of waste management.
Test – delegates will undertake a final assessment covering the entire course content to demonstrate your understanding.
If you are booking the Food Safety training online course for over 20 people, please use the form below and we will provide you with a quote. For bookings of less than 20, please make your purchase online. Do you want to find out more about how SOCOTEC can support the food and beverage industry?  Click here.
---
choosing a selection results in a full page refresh