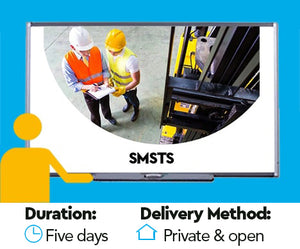 CITB
Site Safety Plus - Site Management Safety Training Scheme (SMSTS) (Open Course)
Regular price
£595.00
£0.00
Unit price
per
The CITB Site Safety Plus Site Management Safety Training Scheme (SMSTS) is an industry-recognised course which aims to equip those responsible for management within the building, construction and civil engineering sectors with the relevant knowledge and skills to remain fully compliant with health and safety legislation on site.
This course is available at a location of your choice for a minimum of 4 delegates/maximum of 15 per course. Please enquire below if you are interested in booking this course.
Key points
•
Suitability: Project/site managers, supervisors and proprietors of smaller construction companies, as well as those considering a management career in building, construction or civil engineering
•
Assessment: Project development and assessments along with a multiple choice test 
•
Teaching method: In-house or at one of SOCOTEC's training centres nationwide 
Aims/objectives 
The SMSTS course aims to provide delegates with a solid understanding of their responsibilities and obligations surrounding site safety, health and welfare in the context of their management role and in accordance with legal provisions. By learning how to promote a positive health and safety culture, they will develop a greater understanding of site-specific requirements in regards to the
Construction, Design and Management (CDM) Regulations
and subcontractor management, using their newly acquired knowledge to ensure that their site is safe, efficient, productive and economical. 
SMSTS course content
SMSTS course contentThroughout the five-day SMSTS course, delegates will cover a range of topics, ranging from current legislation to factors that affect safe working on building and construction sites. Each topic will help to reinforce the need for regular risk assessment and the implementation of control measures in the workplace.  
These include: 
•
Risk assessments/method statements
•
Recent changes in accepted working practices
•
Management of occupational health 
SMSTS course assessment
This highly interactive site management course is delivered through a combination of case studies, classroom discussions, evaluation papers, group work and individual/group presentations. Self-study will also be required throughout the SMSTS training course in order to pass the multiple choice test, which serves as the final stage of assessment before delegates become fully certified in site management.  
Course outcomes
By the end of the SMSTS course, delegates will be able to successfully implement all relevant health, safety, welfare and environmental legislation that will affect them in their day-to-day work, enforce new guidance and best industry practice and have a full comprehension of all of their job duties in relation to site management.   
 
Delegates will be awarded with the SMSTS Construction Skills Site Safety Plus Certificate on the basis that they have a full attendance rate and have passed all of the relevant evaluation stages of the course. SMSTS is also endorsed by
BuildUK
, a representative organisation for the British construction industry, who recognise the course as the standard training requirement for all site and construction managers. 
SMSTS Refresher Training (required every 5 years after initial SMSTS)
Upon successful completion of the SMSTS qualification, delegates will be eligible to participate in
SMSTS Refresher Training
, a two-day course which serves to provide updates on relevant legislation and industry news. However, it is imperative that SMSTS Refresher Training is undertaken while their five-year qualification certificate is still in date, as otherwise the original site management course will need retaking. Delegates who have passed the SMSTS course should remember to renew their certification prior to its expiry date. 
SMSTS training requirements
4 to 20 delegates are permitted to attend the SMSTS course at any given time in order to ensure a bespoke, focused and small group teaching environment. Available at your own premises, a location of your choice or at SOCOTEC's dedicated training facilities in Burton upon Trent, Milton Keynes, London and Cardiff. Businesses will also be provided with a range of dates and times to suit their requirements. 
The SMSTS course can be delivered in a range of ways to meet your business needs. Delegates should also note that they must bring valid identification in the form of a passport or driving licence to attend the course. 
---
choosing a selection results in a full page refresh