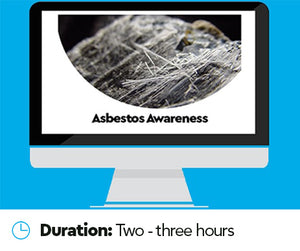 UKATA
UKATA Asbestos Awareness Online
Regular price
£26.95
£25.00
Unit price
per
What is asbestos?
Asbestos is a group of heat-resistant silicate minerals made up of fibrous crystals. Due to its ability to resist heat, asbestos was often used in brake linings, flooring, roofing, insulation and other materials before its dangers were known.
What is UKATA Asbestos Awareness Online training?
If you are an employee working across properties that were built or refurbished before the year 2000 or are responsible for the supervision of such workers, you will require asbestos awareness training in order to know how to work safely around the fibrous mineral.
Approved by the United Kingdom Asbestos Training Association (UKATA), this online asbestos awareness training course provides delegates with a solid understanding of the dangers associated with exposure to airborne asbestos fibres and the recommended course of action in the event of discovering/disturbing asbestos-containing materials (ACMs). 
Suitability: Anyone who may come across asbestos/ACMs during working activities, as well as duty holders/supervisors who manage or control those directly at risk
Experience: No prerequisites required
Duration: 2 hours
Number of modules: 4
Assessment: Interactive questions throughout each module and a final examination
Teaching method: Online
Recommended for employees who work in a profession where they are likely to come into contact with ACMs or in buildings where asbestos may be present, as well as for supervisors who manage and control workers at risk, this short online asbestos training course teaches delegates to recognise the properties of the substance, where it is/has been used in buildings, when it may pose a risk to health and how to respond accordingly in the event of exposure or disturbance.
UKATA Asbestos Awareness training course structure
Covering four modules in total, delegates will be trained to recognise why asbestos must be treated as a hazardous substance and what is required from employers and employees from a legal perspective. Each contains a series of interactive questions that require a pass mark to proceed to the next stage, concluding with a final examination where delegates need an 80% pass mark to become fully certified.
Each module within the UKATA Asbestos Awareness training course has been developed in line with current legislation, control measures and health and safety guidelines. Particular emphasis is placed on the importance of Regulation 10 of the Control of Asbestos Regulations 2012, which requires employers to ensure that adequate information, instruction and training is supplied to employees who are liable to exposure from ACMs. This is supported by the Approved Code of Practice L143 ('Managing and Working with Asbestos'), as well as the Control of Substances Hazardous to Health Regulations 2002 (COSSH), whereby employers are legally bound to adequately control their employees' exposure to harmful substances in the workplace.
Upon completion of the UKATA Asbestos Awareness online course, delegates will be able to identify possible ACMs, determine whether they are placing themselves or any of their colleagues at risk and establish the correct procedures/course of action when encountering ACMs. They will also be awarded an Asbestos Awareness certificate, which proves that they have achieved the required pass rate of 80% (equivalent to three wrong answers). In the event that delegates do not pass the final examination on the first attempt, they will be permitted a further three attempts.
Please note that the Asbestos Awareness online course does not equip delegates with the practical skills or knowledge to work with ACMs. Instead, it is solely designed to teach them how to protect themselves against the risk of exposure and how to comply with relevant legislation.
Who is Asbestos Awareness training suitable for?
As well as being suitable for employees who run the risk of coming into contact with ACMs as part of their everyday role (working in demolition, repair and refurbishment), the UKATA Asbestos Awareness course is also beneficial for duty holders, such as building owners and those responsible for the maintenance of a property through a contract or tenancy.


How often is Asbestos Awareness training required?
UKATA Asbestos Awareness certification is valid for 365 days from the date of issue, whereupon delegates are required to undertake refresher training. This certificate is available for download immediately after the course has been passed.


UKATA Asbestos Awareness training course overview 
Delegates will cover the following subject matter during the UKATA Asbestos Awareness online course:
History and health effects
Legal framework
Avoiding exposure and emergency procedures
Asbestos properties, uses and risk of fibre release
The UKATA Asbestos Awareness training course can be completed in a delegate's own time on their own business premises or in a concentrated session at a location of their choice.
For further information on UKATA Asbestos Awareness training and SOCOTEC's range of online and in-house courses, contact us here. 
---
choosing a selection results in a full page refresh