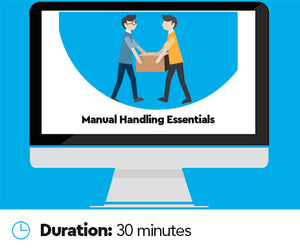 SOCOTEC
Manual Handling Procedures
Regular price
£20.00
£0.00
Unit price
per
Enquire below if you are booking this course for more than 20 people.
Please note that it is recommended to complete face to face manual handling training alongside this manual handling procedures awareness course for full knowledge and skills. You can find SOCOTEC's private manual handling course here. 
With manual handling responsible for nearly a quarter of workplace-related injuries in 2018, it is important that employees are fully trained in the correct procedures for handling and moving objects in order to minimise and control the level of risk. The Health and Safety at Work Act 1974 and Management of Health and Safety at Work Regulations 1999 require employers to provide sufficient health and safety training and risk assessments for their staff, and the Manual Handling Essentials course equips delegates with the knowledge required to competently practice safe manual handling techniques in the workplace.
Key points
Suitability: All staff who incorporate manual handling within their day-to-day role
Experience: All levels of responsibility, with no prerequisites required
Duration: 30 minutes
Number of modules: 5
Assessment: Multiple choice test
Teaching method: Online
Manual Handling Procedures Aims/objectives
This 30-minute e-learning Manual Handling course provides delegates with a sound understanding of the appropriate procedures for handling and moving objects in their working environment, educating them in the basics of lifting, carrying and setting down a load. It aims to provide an awareness of the potential dangers and common injuries caused by incorrect manual handling, as well as covering the relevant legislation/guidelines, risk assessments and recommending the appropriate control measures to ensure best working practice.
Manual Handling Online Course Content
The Manual Handling procedures training course has been written in line with the Manual Handling Operations Regulations 1992, which require all employers to comply with the relevant health and safety guidelines regarding manual handling. As part of this legislation, employers must carry out a full manual handling risk assessment so that they are fully aware of all of the potential dangers and have the actions in place to respond accordingly. They must also ensure that all staff members are competent in performing correct manual handling techniques, with steps put in place to reduce the risk of injury as far as it is reasonably practicable.
With this health and safety legislation in mind, the Manual Handling Essentials training course has been split accordingly into five modules:
What Is Manual Handling?
Injuries Associated with Manual Handling (including upper limb and lower limb disorders, hernia and back injuries)
Overview of the Manual Handling Operations Regulations
Avoiding/Assessing Manual Handling Activities (including the importance of LITE)
Reducing the Risks Associated With Manual Handling Activities (including planning before handling, performing a two-handed/two person symmetrical lift, pushing and pulling)
Manual Handling Course Outcomes
By the end of the Manual Handling online course, delegates will be able to identify the correct manual handling methods and the associated injuries caused as a result of poor lifting and carrying techniques. They will also be fully competent in assessing manual handling hazards, with a thorough understanding of the legal duties of both the employer and the employee, the necessary control measures and best working practices to handle loads and maintain a safe working environment.
Once they have passed the course, delegates will have immediate access to a Manual Handling certificate demonstrating their newly acquired knowledge, which is valid for three years from the date of issue. Please note that this Manual Handling training course has been designed solely to raise awareness of the correct techniques and guidelines, with additional face-to-face training required to acquire all of the practical knowledge and skills to carry out lifting and moving procedures correctly and safely.
This Manual Handling course is available as online training, but also provides delegates with the option of a user-focused risk assessment. As study takes place in an e-learning format, delegates are able to carry out their training on work premises, enabling them to immediately transfer their newly acquired knowledge on best manual handling practice into their own working environment.
To find out more about the Manual Handling Essentials training course please contact us. In addition, SOCOTEC offers private manual handling training at your premises. 
---
choosing a selection results in a full page refresh