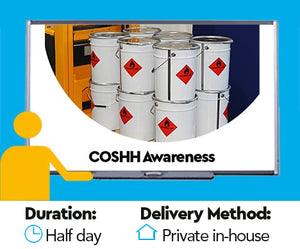 COSHH Awareness Training
Regular price
£550.00
£0.00
Unit price
per
Enquire
The Control of Substances Hazardous to Health (COSHH) Regulations 2002 require employers to prevent, reduce and/or control exposure to hazardous substances, preventing ill health and harm among workers. In line with Regulation 12 of COSHH, employers are also legally required to provide employees with suitable information and health and safety training to ensure that they can carry out their work safely and competently.
Introducing delegates to the inherent risks associated with hazardous substances and the control measures required to ensure safety, the COSHH Awareness course equips both employers and workers with the appropriate knowledge and training to keep the level of exposure to these substances to a minimum.
Key points

Experience: Suitable for employees who may come into contact with substances considered hazardous to health, as well as employers, supervisors and managers responsible for the health and safety of their staff
Duration: Half day
Assessment: Multiple choice test papers
Teaching method: Private classroom-based learning which can be delivered in-house or at one of SOCOTEC's training facilities across the UK
COSHH Awareness – aims/objectives

Delegates will learn the eight steps of COSHH throughout their awareness training. These outline how to assess the risks posed by hazardous substances, determine appropriate control measures, monitor levels of exposure, carry out health surveillance, implement policies and procedures in the event of a relative emergency and ensure that employees are properly informed, trained and supervised in line with COSHH regulations.
COSHH Awareness course structure
During their COSHH training, delegates will learn how to safely work with hazardous substances such as chemicals, nano particles, fumes, dusts, biological agents, vapours, gases and fibres in cooperation with the safety procedures outlined by their managers/supervisors. They will learn about the various control measures that can be implemented to keep the risk of exposure down to a minimum, such as PPE, enclosures, ventilation and safer alternatives, be able to carry out COSHH assessments and implement appropriate health surveillance.
Once they have completed all of the content within the COSHH Awareness course, delegates will be required to undertake a multiple choice examination which will consolidate all of the knowledge surrounding COSHH regulations, hazards and safety measures.
COSHH Awareness course outcomes
At the end of their COSHH training and subject to successful completion of the multiple choice test, delegates will be awarded with a certificate outlining their newfound knowledge and ability to comply with COSHH regulations. While there is no expiry date for this certification, delegates are recommended to undertake COSHH Awareness refresher training every three years in order to update and enhance their knowledge in line with any regulatory changes.
Who is the COSHH Awareness course suitable for?
The COSHH Awareness course is suitable for employees that come into contact with hazardous substances as part of their daily work, as well as supervisors, managers and employers who are responsible for the health, safety and wellbeing of workers who come into contact with these substances.
COSHH Awareness course overview
By the end of the COSHH Awareness course, delegates will be able to identify the legal requirements of the COSHH regulations, recognise hazardous substances and the various health problems associated with exposure, and understand the appropriate control measures and COSHH assessments required to minimise the level of risk.
---
choosing a selection results in a full page refresh