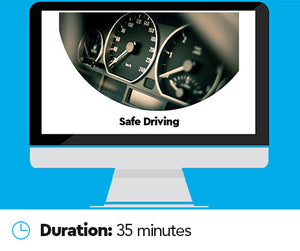 CPD
Safe Driving Online Course
Regular price
£20.00
£0.00
Unit price
per
Enquire below if you are booking this course for more than 20 people. 
With 15.3m people in England and Wales driving themselves to work every day and the 3-6pm evening rush hour proving the most common time for road-related incidents, it is of paramount importance that those who drive to/from and for work recognise good practice when it comes to road safety.
According to the Department of Transport, 1,770 road deaths took place in June 2018, marking a slight yet insignificant increase compared to the previous year. While technological advances, engineering improvements and education promoting the importance of driving safely will each contribute to this statistic, the fact that road accidents continue to be a regular occurrence means that there are still many drivers who remain unaware of how to properly observe the rules of the road. 
The Driving Safety e-learning course is designed to enhance a delegate's understanding of the responsibilities, behaviours and legal requirements regarding the safe operation of their vehicle. From preparing for a long journey to driving in snow and ice, being equipped with the knowledge and techniques to drive safely is essential to ensuring the health and wellbeing of the driver, their passengers and fellow road users.
Suitability: Delegates who commute to work/drive for work purposes within the UK
Experience: Delegates must be in possession of a full UK driving license
Duration: 35 minutes
Number of modules: 4
Assessment: Multiple-choice questions throughout the course followed by a final test
Teaching method: Online
Designed to increase awareness of road safety, the online Driving Safety course teaches delegates that individual driving behaviour is directly related to the number of accidents taking place on the road. Delegates will recognise their level of responsibility when it comes to defensive driving, providing guidance on driving technique, being fit and healthy to drive and ensuring the roadworthiness of a vehicle.
Driving Safety course structure
Written in line with UK legislation and the Highway Code, drivers will learn how to take responsibility for the roadworthiness and everyday safety of their vehicle. The importance of regular safety checks will be highlighted, covering aspects such as lights, tyres, wheel fittings, bodywork, trailer coupling and load equipment.
A range of factors that can impede a person's ability to drive safely are covered in the course, including driving in snow and other poor weather conditions, consuming alcohol, the importance of good posture, changing posture while driving, taking frequent breaks and being well-rested before long journeys.
Delegates will cover a number of defensive driving techniques across different types of road, such as motorways, urban/rural roads and car parks. The correct procedures for how to join a queue, change lanes, reverse and follow the 'two-second rule' are also outlined in detail.  
By the end of the online Driving Safety course, delegates will be equipped with the expertise, confidence and competence to understand all of the factors required to drive safely. Not only will they be able to understand how behaviour on the road is directly related to how safe a driver you are, they will also be able to put all of their newfound awareness on how to drive safely into action.
Driving Safety course overview
Delegates will cover a breadth of topics related to driving safely, which span across four modules in total:
Driving Safety: Overview
Attitude and Behaviour
Driving Techniques
Driver Comfort
Final Test
The course will conclude with a final examination, which allows delegates to consolidate all of their newly acquired knowledge. This test comprises 10 multiple-choice questions in total and requires a default mark of 70% to pass. On successful completion of the course, delegates can download and print a certificate to prove that they recognise how to be a safe driver.     

Training options
The Driving Safety course is available as standalone training, but there is also the option for delegates to take a user-specific self-risk assessment. This optional risk assessment unit can be purchased separately or alongside the standard Driving Safety qualification, the latter of which would enable your organisation to qualify for a general discount.
If you would like to learn more about SOCOTEC's wide range of e-learning and in-house training courses, click here.
---
choosing a selection results in a full page refresh