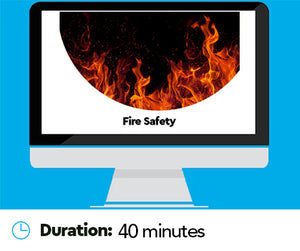 SOCOTEC
Fire Safety
Regular price
£20.00
£18.00
Unit price
per
The risk of fire within the workplace is one of the greatest hazards an organisation will ever come across in terms of health and safety, with the potential to destroy properties, lives and jobs. Everyone has a degree of responsibility in helping to ensure fire prevention, with comprehensive workplace fire safety training a legal requirement for all employees in line with the Fire Safety Order 2005. This includes a basic explanation of the risks posed by fire, instructions on fire signage and the recommended course of action in the event of a fire alarm.
Why is Fire Safety important in the workplace?
Fire training is applicable to everyone in the workplace, irrespective of the industry/sector they work in. As one of the most effective means of maintaining a safe workplace, a Fire Safety training course outlines the recommended actions that employees should take in the event that they discover a fire on work premises. This Fire Safety e-learning course covers the key principles of fire training, including how to recognise the most common and potential hazards, while also outlining how delegates can prevent a fire from occurring.
Key points
Suitability: Employees who do not have a specific role in relation to fire safety in the workplace but who require general knowledge on fire prevention/fighting
Experience: No prerequisites required
Duration: 40 minutes
Assessment: Final test
Teaching method: E-learning
Fire Safety e-learning – aims/objectives
Key objectives of the Fire Safety e-learning course include explaining how fires happen and the different courses that fires may take, while helping delegates to recognise the potential hazards that may lead to a fire in the workplace. Delegates will be taught how to recognise the individual role that they will play in contributing to fire prevention and safety, understanding what is required of them in the event of fire being discovered or having broken out.
Written in line with fire safety regulations, delegates will be able to recognise key fire hazards in the workplace, describing how to evacuate a building during a fire-related emergency. The fire training course also aims to demonstrate how to safely and properly operate common fire extinguishers, underlining the importance of using the right type of extinguisher on certain types of fires.   
Fire Safety online learning – course structure
Following completion of their fire training, delegates will be required to participate in a Final Test, which requires them to apply all of the knowledge they have acquired on fire safety in the workplace. Once they have passed this test, delegates will be able to immediately download and print off a completion certificate demonstrating their newfound awareness around fire prevention and safety.
Online Fire Safety – course outcomes
By the end of their fire training, delegates will understand the different causes of fire and the three components required for a fire to start, develop and spread. They will be confident in knowing how to raise an alarm, what to do when an alarm is sounded and how and when contact security/fire services in the event of a fire, as well as recognise the importance of evacuating a building via the safest, most immediate route.
In addition, delegates will be informed on the individual classifications and types of fire, as well as the various types of fire extinguishers and correct equipment to use for different situations. They will be able to describe fire signage, outline a safe fire evacuation procedure, have an awareness of fire assembly points/their location within their own workplace and be competent in applying basic first aid.
Who is the Fire Safety online course suitable for?
The Fire Safety training course is recommended for delegates who do not have a specific role in fire safety but who will instead contribute to fire prevention, maintaining safe exit routes and responding quickly in the event of a fire alarm being raised. Please note that fire wardens, marshals or appointed Responsible Persons will require more specific training.
Fire Safety e-learning – course overview
Delegates will cover the following modules during the Fire Safety training course:
Fire Safety Essentials – Introduction
Fire Prevention
Emergency Evacuation
Fire Fighting
Final Test.
Looking to book online Fire Safety training for over 20 people? Use the form below and we'll get back to you with a quote.
---
choosing a selection results in a full page refresh