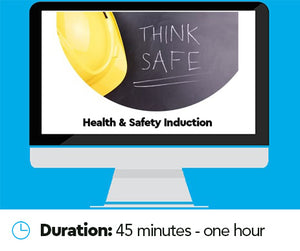 CPD
Health and Safety Induction Online Training
Regular price
£20.00
£0.00
Unit price
per
Enquire below if you are booking this course for more than 20 people. 
The Health and Safety at Work etc Act 1974 covers occupational Health and Safety in Great Britain. The Health and Safety Executive (HSE) is responsible for enforcing the Act in the workplace. All employers should provide a Health and Safety Induction for their employees.
Firstly, employers are responsible for providing a safe and healthy working environment. Employer's duties include assessing and managing the Health and Safety risks in the workplace.  They must provide and maintain a safe place of work.  Additionally, employers must provide information, instruction and training in health and safety matters.  Welfare facilities should also be appropriate.
Under the Act, employees have a duty to co-operate with their employer on Health and Safety issues. This includes any training provided for their benefit. Furthermore, employees should take reasonable care of their own safety and those around them.  In addition, protective clothing and equipment should be used in the manner intended and any defects should be reported.  The legislation also places duties on suppliers and manufacturers.
The Health and Safety Induction eLearning course, emphasis the responsibilities of employers, employees, suppliers and manufacturers under the Health and Safety at Work Act 1974. Furthermore, it explains how the legislation is enforced by the Health and Safety Executive (HSE). The Health and Safety Induction Online Training course highlights the importance of an organisation's Health and Safety Policy. Users will understand what information a Health and Safety Policy should include such as, responsible staff, types of hazards and risks, how to report accidents, first aid and emergency procedures.
On successful completion of the course, users will understand what causes accidents and what to do when accidents occur. A definition of hazards and risks is explained and what a risk assessment involves.  The course also explains the risk assessment process.
Main sections in this Health and Safety Induction online training:
Overview
Preventing accidents
Dealing with accidents
Risk assessments
Final Test
This Health and Safety eLearning course provides an ideal way to induct new employees into an organisation. It explains the importance of Health and Safety in the workplace and promotes an understanding of hazards, risks and accident prevention.
To highlight the importance of Health and Safety issues in the workplace, how they affect users and what users can do to protect their own safety.
To detail existing workplace Health and Safety legislation, how it is enforced and what users responsibilities are under this legislation.
To show how to avoid accidents and ill-health at work by becoming risk aware.
To highlight the importance of reporting accidents and breaches of safety rules and procedures.
This course is approved by RoSPA. Once the 45 minute course is completed, users must take a final test consisting of 10 questions. The final test has a minimum pass rate requirement of 70%. On successful completion of the test users can download and print off a completion certificate.
---
choosing a selection results in a full page refresh