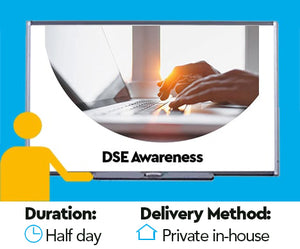 Display Screen Equipment Awareness
Regular price
£550.00
£0.00
Unit price
per
Enquire
While Display Screen Equipment (DSE) is an essential part of the modern-day workplace, many do not consider the underlying health risks that can come about as a direct result of incorrect usage, such as Upper Limb Disorders, Repetitive Strain Injury and carpal tunnel. As outlined in the Health and Safety (Display Screen Equipment) Regulations 1992, employers are legally required to carry out regular risk assessments and encourage best working practices among users, and the DSE Awareness course provides delegates with the information required to encourage and ensure the safe, correct use of this equipment. 
Key points
Experience: Suitable for anyone who uses DSE continuously for over an hour at a time as part of their job role
Duration: Half day
Assessment: Practical assessment
Teaching method: Private classroom-based learning which can be delivered in-house or at one of SOCOTEC's training facilities across the UK
Working with DSE– aims/objectives
Recommended for anyone who is categorised as a DSE user under the 1992 legislation, the aim of the DSE Awareness course is to provide delegates with a broad understanding of what DSE encompasses. Delegates will become confident in identifying and acting upon associated hazards and health issues, complying with relative legislation, as well as be fully competent in setting up a workstation, carrying out a Display Screen Equipment assessment and encouraging best working practices.
Working with Display Screen Equipment course structure
 Once delegates have completed all of the content within the DSE Awareness course, they will be required to undertake a practical assessment, where they will be scored on their ability to adequately assess a DSE workstation and address any issues and/or potential risks that arise.
DSE Awareness course outcomes
By the end of the DSE Awareness course, delegates will be able to confidently identify any hazards, associated health risks and incorrect usage of DSE and implement the appropriate control measures required to comply with relevant legislation. They will also gain an understanding of how safe and correct DSE usage correlates directly to an increase in employee productivity, enhanced wellbeing and morale and a decline in sickness absence. 
Who is the DSE Awareness course suitable for?
The DSE Awareness course is recommended for anyone who uses DSE for a continuous and significant period – over an hour a day – as part of their job role. This includes visual display units such as laptops, desktop monitors, tablets, smartphones, TVs and touchscreens, as well as any other devices with an alphanumeric or graphic display screen.
Working with Display Screen Equipment
course overview
Written in line with the Health & Safety Display Screen Equipment at Work Regulations 1992, delegates will cover the following subject matter during the DSE Awareness course:
Introduction to DSE
Legal framework and the requirements of relevant legislation
Common hazards associated with DSE
Health issues associated with poor use of DSE
Setting up a workstation
DSE and the working environment
How to correctly set up/adjust a chair and DSE
---
choosing a selection results in a full page refresh