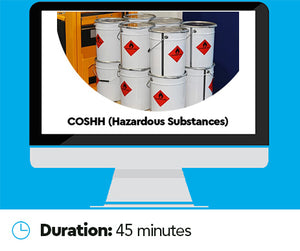 CPD
COSHH (Hazardous Substances) Online Training Course
Regular price
£20.00
£0.00
Unit price
per
The COSHH (Hazardous Substances) online training supports the Control of Substances Hazardous to Health Regulations (COSHH) 2002 and the associated Approved Code of Practice and guidance, L5 (2013). Regulation 12 requires employees to be provided with suitable and sufficient information, instruction and training.
The COSHH online training includes a lesson on how to interpret information provided with hazardous substances (for example, labelling on bottles, or statements on safety data sheets), and must be supplemented with local information about the specific substances to which employees might be exposed. 
Lesson 3 explains the ways in which hazardous substances can enter the body, and describes three common health conditions that can develop as a result (dermatitis, asthma and cancer).
The final lesson of this online COSHH training describes some of the control measures that might be in place to manage hazardous substances, following the hierarchy of control. The emphasis is that hazards should first be eliminated, with personal protective equipment (PPE) a last resort where the residual risk cannot be reduced sufficiently. This information will help the learner to interpret and apply locally produced risk assessments in relation to hazardous substances.
To recognise hazardous substances and their different forms.

To be aware of the hazards and health risks associated with hazardous substances.

To avoid harmful exposure and reduce the risk of ill-health associated with hazardous substances.
On successful completion of the test users can download and print a certificate.
The course lasts approximately 45 minutes, although this can depend on the level of existing knowledge.
Users are required to take a final test consisting of 10 default questions. The default pass mark is 70%
The course administrator within your organisation can:
Change the pass mark

Implement the random test question feature which selects 10 questions from a bank of 20.

Can specify that more than 10 questions must be answered (up to the full bank of 20 questions)
The courses is intended for use in an environment where risk management processes have already considered how to eliminate hazardous substances, and how to reduce exposure to any hazardous substances in use.
Any employees or contractors could usefully use this course as part of an induction process, or as refresher training.  Local management remain responsible for providing employees with the details of any hazardous substances to which they might be exposed, and to specific instructions (for example, in method statements, or by providing access to safety data sheets) on safe use of those substances.  Risk assessments which have identified hazardous substances as byproducts should also be shared with employees so they understand how to protect themselves and others.
The course is also suitable for employees subject to health surveillance, to explain the importance of taking part in health surveillance and of reporting any symptoms experienced.
---
choosing a selection results in a full page refresh