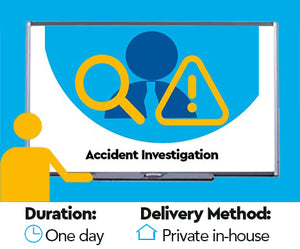 Accident Investigation Training Course
Regular price
£925.00
£0.00
Unit price
per
Enquire
According to the Labour Force Survey, over 40m working days are lost through work-related injuries, costing over £2.5 billion to businesses and largely impacting productivity rates. From slips and trips to cuts and lacerations, every workplace-related incident is required by law to be reported under the Reporting of Injuries, Diseases and Dangerous Occurrences Regulations 2013, with organisations of 10 employees or more also required to keep a log to note the exact details of each and every accident that takes place.  
Reporting and recording all incidents and near misses will enable businesses to analyse why exactly the accident occurred and implement control measures to decrease the likelihood of an incident of a similar nature taking place again. It is highly recommended that employees participate in the Accident Investigation training course, which provides an understanding as to why workplace injuries occur and how to learn from these incidents.
Experience: Delegates must be in a position of responsibility that encompasses the health and safety of other members of staff
Duration: One day
Assessment: Multiple choice examination and a practical demonstration of accident investigation
Teaching method: Classroom-based learning which can be delivered in-house or at one of SOCOTEC's training facilities across the UK
Accident Investigation training course –
aim/objectives
The Accident Investigation course aims to provide an understanding of the principles and practices behind incidents, injuries and near misses at work. Delegates will be provided with a detailed overview of the techniques required to carry out a thorough and effective accident investigation, equipping them with the competence and logic to determine the immediate, underlying and root causes of incidents and act upon them accordingly.
Accident Investigation training
course structure
In order to complete the Accident Investigation training course, delegates are required to complete a short multiple choice examination once they have gone through all of the module content. This will be followed by a practical demonstration where delegates apply their newly acquired knowledge and carry out a mock accident investigation.
Who is

the Accident Investigation training course

for?

As the investigation and analysis of work-related incidents is essential to good health and safety management, the incident investigation training course is best suited to those who are both responsible for and are representatives of the safety of their fellow employees, including line managers, supervisors and health and safety executives.
Accident Investigation training course – o
utcomes
By the end of the Accident Investigation course, delegates will have a thorough understanding of the incident investigation and reporting process from start to finish, as well as knowing how to comply with RIDDOR legislation. They will be able to determine exactly how accidents happen, what to do in the immediate aftermath of workplace-related accident, why all incidents require investigation, the legal requirements for reporting accidents and the varying benefits for accident investigation. 
---
choosing a selection results in a full page refresh