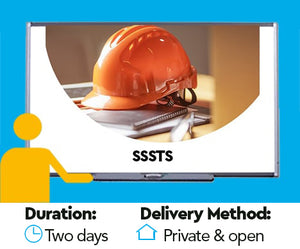 CITB
Site Safety Plus - Site Supervisors Safety Training Scheme (SSSTS)
Regular price
£375.00
£0.00
Unit price
per
The Site Safety Plus Site Supervisors Safety Training Scheme (SSSTS) introduces delegates working in a site supervisor role to their legal and moral responsibilities for health and safety on site. Endorsed by the Construction Industry Training Board (CITB), the SSSTS course is a nationally recognised qualification that is regarded by many major contractor groups, and is often considered the first step in health and safety training for all new managers and supervisors.
Key points
Experience: Delegates must be considering, about to enter or already holding a position as a first line manager or supervisor in the construction sector
Duration: Two days
Assessment: Ongoing evaluation and a multiple choice assessment at the end of the course
Teaching: Classroom-based learning which can be delivered in-house or at one of SOCOTEC's training facilities across the UK
Site Safety Plus SSSTS course – aims/objectives
The Site Safety Plus SSSTS course aims to give delegates a clear understanding of what is expected of them in their supervisory role, ensuring that they can effectively contribute to the health, safety and welfare of their staff in accordance with current legal provisions. Delegates will be guided in the instruction and monitoring of safety practices of groups of operatives, helping to identify and prevent a range of risks and hazards that could occur on site and raising awareness of these to clients and colleagues. 
SSSTS course structure
During the Site Safety Plus SSSTS course, delegates will gain a thorough understanding of their role and the importance of practicing good safety management skills. They will be evaluated on an ongoing basis to ensure that they are developing the competence to ensure the safety, health and welfare of their colleagues while working on site. Once they have completed all of the course content, delegates will then be required to complete a multiple choice examination, where they will consolidate and apply all of their newly acquired knowledge.
Site Safety Plus SSSTS course outcomes
By the end of the Site Safety Plus SSSTS course, delegates will be competent and confident in their main responsibilities as a site supervisor, acknowledging that the key attributes of a site environment are safety, cost-effectiveness and productivity. They will understand a range of health and safety, environmental and occupational hygiene-related issues within the construction industry; recognise how relevant legislation relates to supervisors; be able to monitor site activities and carry out site inductions, risk assessments and toolbox talks, and understand the importance of timely intervention when bad practice is identified.
Delegates will be awarded with a certificate validating their competence as a site supervisor, which will last for five years. Prior to its expiry date, delegates must participate in SSSTS refresher training – available via SOCOTEC – to ensure they remain legally competent to supervise on site, as failing to do so will require them to retake the SSSTS course in full. Delegates will also be eligible to participate in the five-day Site Management Safety Training Scheme (SMSTS) once they have completed their supervisory training.
Site Safety Plus SSSTS course overview
As delegates proceed through the SSSTS course, they will cover the following content:
How health and safety is structured
How to deal with a range of welfare, environmental and occupational hygiene-related issues – fire prevention, Control of Hazardous Substances, CDM regulations, working at height, PPE, manual handling, accidents, first aid
How health and safety law is structured
How a supervisor's role links to a site manager's in terms of site safety
How to carry out risk assessments, site inductions and toolbox talks
Why methods statements are a legal requirement
Who is the Site Safety Plus SSSTS course suitable for?
The Site Safety Plus SSSTS course is suitable for those considering, about to enter or already holding a position as a site supervisor or first line manager, including foremen, gangers and team leaders. Those who have already completed the CITB Health and Safety Awareness course will also benefit, as the site supervisor training builds on the health and safety knowledge they have already acquired.
Click here if would like to book the SSSTS refresher training.
Please note that the Site Safety Plus SSSTS is suitable for a minimum of four and a maximum of 15 delegates to participate at any given time. If you would like to book a private course, please enquire below.
---
choosing a selection results in a full page refresh