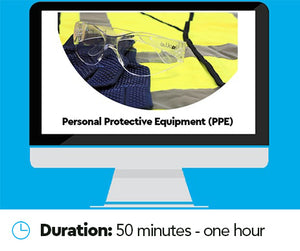 CPD
Personal Protective Equipment (PPE) Online Training
Regular price
£20.00
£0.00
Unit price
per
Enquire below if you are booking this course for more than 20 people. 
According to the Health and Safety Executive (HSE) employers have duties concerning the provision and use of personal protective equipment (PPE) at work and need to meet the requirements of the Personal Protective Equipment at Work Regulations 1992 (as amended)
"PPE is equipment that will protect the user against health or safety risks at work. It can include items such as safety helmets and hard hats, gloves, eye protection, high-visibility clothing, safety footwear and safety harnesses"
"Hearing protection and respiratory protective equipment provided for most work situations are not covered by these Regulations because there are other more specific regulations that apply to them. However, these items need to be compatible with any other PPE provided."
This Personal Protective Equipment (PPE) eLearning course explains the importance of PPE and how it keeps employees safe in the workplace.  It explains the responsibilities of providing, using, storing and maintaining PPE.
Users will learn how to identify examples of PPE and when to use it.  Additionally, safety signs will be explained. On completion of the Personal Protective Equipment (PPE) eLearning course, users will be able to identify the difference between a hazard and a risk.
The course explains the importance of correct training in the maintenance and use of PPE . PPE is provided for your protection. You must co-operate by wearing and using it properly. There are no excuses for not wearing PPE when needed. PPE can help reduce injury to yourself, your work colleagues and to the general public.
Main sections in this Personal Protective Equipment online training:
Overview
Types of PPE
Use of PPE
Final Test
This course is designed to improve the occupational health and safety of employees in the workplace. It is suitable for both employers and employees.
Course Objectives:
Detail the relevant legislation affecting the use of PPE in the workplace
Explain the role of PPE in the workplace
Detail both the employer and employee responsibilities with regard to PPE
Identify the various types of PPE and recognise the safety signs that specify their use
Provide information regarding the use, maintenance and storage of PPE
This eLearning course is RoSPA approved. Once the 50 minute course is completed, users must take a final test consisting of 10 questions. The final test has a minimum pass rate requirement of 70%. On successfully completion of the test users can download and print off a certificate.
---
choosing a selection results in a full page refresh