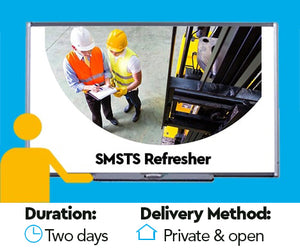 CITB
Site Safety Plus – Site Management Safety Training Scheme Refresher (Open Course)
Regular price
£450.00
£0.00
Unit price
per
PLEASE NOTE - You have until 31 January 2021 to join a SSSTS/SMSTS refresher course, if your current certificate expired after 15 March 2020. 
The Site Safety Plus – Site Management Safety Training Scheme (SMSTS) Refresher course improves delegates' awareness of any recent developments and updates to health, safety, welfare and environmental legislation and guidelines that may affect their role as a construction site manager. Accredited by the Construction Industry Training Board (CITB), the SMSTS Refresher course will equip delegates with the confidence to identify and implement measures established by any newly updated legislation and working practices.
Experience: Delegates must have successfully completed the original five-day SMSTS course to be eligible for refresher training, with their certificate close to the five year expiry date
Duration: Two days
Assessment: Multiple choice examination and ongoing assessment throughout the course
Teaching: Classroom-based learning which can be delivered in-house or at one of SOCOTEC's training facilities across the UK
SMSTS Refresher course – aims/objectives
The main aim of the SMSTS Refresher course is to provide delegates with an up-to-date understanding of their responsibilities, accountabilities and best working practices surrounding the management of health, safety and welfare on site. This will be delivered in accordance with current legal provisions in the Health and Safety at Work Act 1974, the Construction (Design and Management) Regulations 2015 and the latest HSE and ACOP guidelines.
Placed within the context of their construction-based management or supervisory role, delegates will be updated on their legal, moral and social obligations in order for them to maintain a healthy, safe and economically-friendly site. They will also refresh their knowledge on how to identify and avoid potential hazards, as well as how to prepare method statements, risk assessments and other such statutory requirements in the event of a health and safety incident on site.

SMSTS Refresher course structure

The SMSTS Refresher course features a high proportion of interactive content, including discussions, tutorials, syndicate exercises, case studies and videos. Delegates will be assessed on an ongoing basis throughout their Refresher training in order to prepare them for the multiple choice assessment at the end of the course. This examination comprises 25 questions, 20 of which are multiple choice and five of which are safety critical and require short written answers.
A key requirement of the SMSTS Refresher course is that delegates are in possession of an up-to-date copy of the course publication, GE700. This can be purchased through SOCOTEC at the time of booking for a discounted price of £79.50, with the publication provided on the first day of the course. Alternatively, delegates can source their own copy and bring it with them for the duration of the training. 

Who is the SMSTS Refresher course suitable for?
The SMSTS Refresher course is suited to delegates who have already successfully completed the original five-day course – namely, project/site managers, site supervisors and proprietors of smaller construction companies. They must have certifiable proof of successful completion of the SMSTS course, as well as access to any additional information such as when and where they have passed the training course, in order to be eligible for participation in SMSTS renewal training. 

SMSTS Refresher course outcomes


By the end of the SMSTS Refresher course, delegates will be able to implement all newly updated/impending legislation concerning health, safety, welfare and environmental issues that affect construction site management. They will also have a greater knowledge of any recent changes to best working practices and behavioural safety, as well as recognise the health and safety implications of working with scaffolding, electricity, demolition, confined spaces, excavations and at height.  
Delegates will be awarded an SMSTS certificate as proof of their successful completion of both days of the Refresher training, which will be delivered six to eight weeks after the initial course completion date. This will validate their SMSTS training for a further five years.
SMSTS Refresher course overview
Subject matter that will be covered within the SMSTS Refresher course includes:
Updates to legislation, HSE and ACOP guidelines
Accident statistics, costs, causes, prevention methods and management responsibilities
Safety management systems, risk assessments, policies, plans, performance measuring
HSE current focus on construction activities
Management of contractors
Communication and consultation, effective use of 'toolbox talks' and site inductions
Behavioural science – awareness of human error, stress and prevention
Syndicate exercises – prevention of accidents, motivating safety behaviour, planning for health and safety in relation to fire safety, working at height, manual handling and the movement of people within the context of a project
Delegates are required to present their current SMSTS certificate at the time of booking in order to prove their eligibility. This must still be in date (within five years of initial completion of the original SMSTS course), as those with expired certificates will be required to complete the SMSTS course in full. They should also bring a valid form of photographic identification (passport or driving licence) and their National Insurance number with them on the day.
Please note that the SMSTS Refresher course is available at a location of your choice for a minimum of four and maximum of 15 delegates to participate at any given time. If you are interested in booking a private course, please enquire below.
---
choosing a selection results in a full page refresh