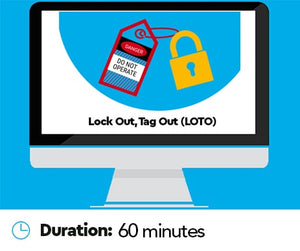 SOCOTEC
Lock Out, Tag Out (LOTO)
Regular price
£20.00
£18.00
Unit price
per
What is the difference between Lock Out and Tag Out?
While every workplace has safety procedures in place for employees working on industrial equipment and machinery, accidents are just as likely to take place when such equipment is non-operational, or during periods of repair, maintenance, service, unblocking and cleaning. A Lock Out, Tag Out (LOTO) procedure is required to ensure that machinery is completely shut off from any hazardous energy sources, creating absolutely no risk of restarting prior to the completion of these essential works.
The term 'Lock Out' refers to the placement of an energy isolation device on industrial equipment or machinery, rendering it inoperable and preventing the release of any energy while work is carried out. Meanwhile, 'Tag Out' involves a tag being placed on equipment to indicate to employees that it may not be operated until the device is removed.
Who is responsible for Lock Out, Tag Out procedures?
It is the sole responsibility of the employer to have tailored Lock Out, Tag Out procedures in place, as well as carry out specific risk assessments and inspect equipment at least once a year to ensure that said LOTO procedure is fully up-to-date.
LOTO e-learning course description
The LOTO e-learning course is tailored around the OSHA Standard for The Control of Hazardous Energy (Lock Out, Tag Out), which outlines the recommended actions for recognising and controlling hazardous energy sources during essential maintenance works on machinery and equipment. All employees authorised to operate LOTO equipment must be trained to recognise hazardous energy sources in the workplace, their type and magnitude and the appropriate means and methods of control, all of which is covered in the LOTO e-learning course.
Key points
Suitability: All employers, employees and contractors involved with and authorised to operate and maintain machinery
Experience: No prerequisites required
Duration: 60 minutes
Assessment: Final test
Teaching method: Online


LOTO e-learning –aims/objectives
The LOTO e-learning course aims to explain the isolation processes required to shut down powered equipment and machinery. Delegates will learn about the range of primary and secondary energy hazards required to protect themselves against (hydraulic pressure, gas, moving parts), as well as what can go wrong if a successful isolation process is not in place. Forming a key part of the course, delegates will learn the concepts behind the six-step LOTO procedure, which covers the steps that they must take both before power is restored to the equipment and after maintenance, servicing and repair work is complete.
LOTO e-learning – course structure
Once delegates have completed the course content, they will be required to undertake a final test comprising 10 questions, which enables them to apply all of the knowledge and information they have learnt over the duration of the LOTO e-learning course. Where workplace safety is dependent on an employee understanding how to carry out isolation processes, including LOTO, this should be examined in a separate assessment carried out by a competent individual.
Please note that the course administrator has the power to implement the following actions for the final test:
Change the pass mark
Implement the random test question feature, which selects 10 questions from a bank of 20
Can specify more than 10 questions must be answered (up to the bank of 20 questions)
Following successful completion of the 60-minute LOTO e-learning course, delegates will be able to immediately print and download a certificate.
LOTO e-learning – course outcomes
By the end of the LOTO online course, delegates will be fully competent in understanding and applying the principles of the Lock Out, Tag Out procedure. As well as comprehending the steps behind shutting down and restarting equipment, they will be competent in recognising and isolating hazardous energy sources, effectively safeguarding themselves and their employees from injury.  
Who is the LOTO online course suitable for?
LOTO online training is suitable for safety officers, engineers, plant managers, maintenance operatives or anyone working on industrial equipment who would like to improve their understanding of energy control and workplace safety procedures. 
LOTO e-learning – course overview
Case studies based on real-life accidents will be referred to throughout the LOTO course to engage the learner, illustrating the importance of applying isolation controls and adhering to the correct shutdown procedures.
The LOTO e-learning course can be used as part of an employee's induction or refresher training, or, where LOTO forms a significant aspect of an individual's job role, a blended learning approach can be adopted. Employers should note that the course will not deliver specific sequences and steps; it will be down to each individual organisation to train employees on how to use, isolate and restart Lock Out, Tag Out equipment and adhere to workplace safety procedures.
If you're looking to book online Lock Out, Tag Out training for over 20 people, use the form below and we'll get back to you with a quote.
---
choosing a selection results in a full page refresh