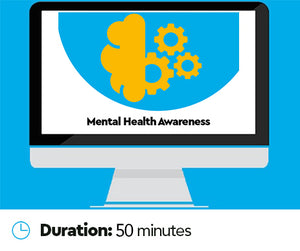 SOCOTEC
Mental Health Awareness
Regular price
£20.00
£18.00
Unit price
per
What is mental health?     
Mental health can be described as how we think (cognitive wellbeing), feel (emotional wellbeing), and behave (behavioural wellbeing). Mental health is often defined as an individual's level of psychological wellbeing or the absence of mental ill health. 
The HSE reported that 602,000 workers suffered from mental health issues in 2018/19, accounting for 44% of work-related ill health in total. Moreover, 12.8m working days were lost as a result of stress, depression and anxiety, which contributed to 54% of the total number of days lost due to ill health.
The stigma surrounding mental health issues at work is something that still remains one of the biggest challenges. Anti-stigma initiatives such as Time to Change highlight the need for workplaces to be more open about talking about mental health to increase awareness and reduce stigma. 
What is Mental Health Awareness training?
Mental Health Awareness training aims to give delegates the confidence to approach mental health and reduce the stigma with the provision of tools and tips from case study based learning.  
The course discusses the mental health continuum (MHC) model, which is a flexible and comprehensive instrument to assess mental illness and mental health. The MHC shows how mental health, like physical health, is not fixed and fluctuates throughout our lives. This model focuses on how individual, psychological, social wellbeing and environmental factors that can positively or negatively affect mental health.
This training will provide tips on how to improve your own mental health using the evidence-based five ways to wellbeing, offering achievable suggestions which can have a significant positive impact on your mental health. 
Work and the work-life balance are also important to your mental health. Mental Health Awareness training offers guidance on practical ways to achieve a healthy work-life balance.
Key points
Suitability: All employees and employers
Experience: No prerequisites required
Duration: 50 minutes
Assessment: Online final test
Teaching method: Online
Aims/objectives of Mental Health Awareness training
This Mental Health Awareness training aims to help to reduce the stigma surrounding mental health in the workplace by providing delegates with an increased sense of awareness of mental health. The training also offers tips, guidance and techniques to help you manage your own mental health at work. 
The Mental Health Awareness course objectives:
What mental health is and what a mental illness is.
How individuals can manage their mental health.
How to help others living with a mental illness.
Structure of Mental Health Awareness training
The Mental Health Awareness course uses a case study approach to help you develop an understanding of the signs of a mental illness developing in people around you. For example, the course offers suggestions on how to listen to, talk to and help those in need. Tips on how to react and assist in crisis situations are also included. 
A variety of examples, interactions, imagery and quizzes are used to reinforce learning and provide an engaging experience. 
Mental Health Awareness course outcomes
Upon completion of the Mental Health Awareness online course, delegates will be able to:
Define mental health and mental illness.
Recognise how individuals can manage their own mental health. 
Explain the Mental Health Continuum and the five ways to wellbeing.
Understand the signs and symptoms of the development of mental illness in other people. 
Increase mental health awareness in the workplace. 
Who is Mental Health Awareness training suitable for?
Mental Health Awareness training is ideal for all employees and employers in any type of organisation interested in improving awareness of mental health in their organisation. 
Overview – Mental Health Awareness 
Main sections in Mental Health Awareness online training include:
Course overview
Defining mental health and mental illness
The mental health continuum model 
The five ways to wellbeing
Small changes that make a positive impact on your own mental health. 
How to help people who are living with a mental illness.
Final test - 10 questions (from a bank of 20 questions) with a pass rate requirement of 70%
Once you have completed this 50 minute Mental Health Awareness course, you must pass the final test to download and print your completion certificate.
Looking to book online Mental Health Awareness training for over 20 people? Use the form below and we'll get back to you with a quote.
---
choosing a selection results in a full page refresh