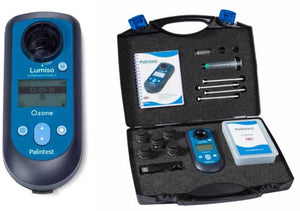 SOCOTEC
Ozone Photometer
Regular price
£916.00
£0.00
Unit price
per
What is an ozone photometer and what is it used for?
An ozone photometer is used as part of the disinfection procedure for a wide range of water treatment systems. Providing a rapid and accurate method of analysis, the test kit determines the concentration of ozone residuals up to a level of 3.0mg/l, which is important for controlling the purity of the water within the system, as well as to ensure that the ozone has been completely removed. It is also often used in conjunction with bromine and chlorine disinfectants.
How does an ozone photometer work?
The ozone photometer uses the internationally recognised DPD method to test for disinfectant residuals and conduct ozone measurements across a wide range of mediums. The test works by measuring the intensity of the colours produced by the DPD reagents, before calculating and displaying the test results directly in milligrams per litre.
To obtain accurate results, please adhere to the following procedure:
Rinse the test tube with the water sample, leaving two to three drops of sample in the tube
Add one DPD No.4 tablet by crushing and filling to the 10ml mark
Gently invert the tube to remove any bubbles from the inner walls
Select the Phot25 setting on the Photometer
Take the Photometer reading
Interpret the results, which are representative of the ozone residual in milligrams per litre.
What are the benefits of using an ozone photometer?
Known for its simplistic, easy to use design, the ozone photometer provides efficient, accurate and stable ozone measurement levels. Compact, durable and waterproof to IP67 standards, the handheld ozone photometer operates in water between the ranges of 0 to 50 degrees Celsius and features a long cuvette path length to deliver a high standard of resolution at low levels.
Where can testing for ozone levels in water be carried out?
The ozone photometer is ideal for field operatives measuring levels of ozone in cooling water, process water, drinking water, wastewater and bottled water treatment, as well as within swimming pools and spas.

A full specification for the ozone test kit can be found below:
Product Code - LUM053
Instrument Type - Colorimeter offering direct-reading of pre-programmed test calibrations
Peak Wavelengths - 530 nm
Accuracy - ± 1.0% T
Display - 226 x 138 pixel LCD with backlight
User Interface - Language free, on screen visual icons
Size (W x L x H) and Weight - 163 mm x 70 mm x 45 mm, 275 g
IP Rating - IP67
Power Supply - 3 x 1.5 V AA batteries
Connectivity - USB for data download and software updates
Memory Capacity - Up to 50 data sets
The ozone test kit comprises a compact ozone photometer, five test tubes, a test tube brush, stirring rods and reagents. You can download the ozone photometer spec sheet here. 
Please note that a build-up of dirt or deposits may interfere with the accuracy of the ozone test kit by interrupting light transmission and affecting readings. As a result, it is extremely important to ensure that the ozone tester is regularly cleaned and any remaining deposits removed. The internal surfaces of the optics should be gently cleaned with a soft, non-abrasive cloth, while deposits can be removed using a slightly dampened cotton bud.

---
choosing a selection results in a full page refresh