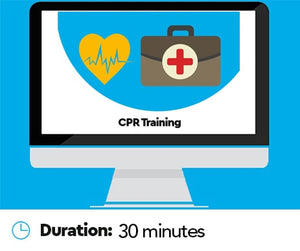 SOCOTEC
CPR Training
Regular price
£20.00
£18.00
Unit price
per
With approximately 60,000 out of hospital cardiac arrests taking place in the UK every year, it is highly recommended that all working environments have individuals who know how to perform Cardiopulmonary Resuscitation (CPR) in the event of an emergency. When performed effectively, CPR can more than double the chances of an individual surviving a cardiac arrest, which is why it is so important for employees to receive CPR training.
Where can I get CPR training?
We have recently resumed first aid and CPR classroom/face-to-face based training under strictly controlled and managed conditions. Find out more about these courses here. 
As part of this e-learning course, delegates will receive basic CPR training and general information on resuscitation procedures, including advice on how to assess a casualty, open an airway, check for signs of breathing and place individuals in the recovery position. Embracing a range of CPR procedures, from basic first aid to advanced medical intervention, delegates will be fully competent in a range of resuscitation techniques to restore breathing and circulation, buying the emergency services valuable time.
CPR Training – key points
Suitability: Anyone who wishes to know how to perform basic CPR in the event of an emergency
Experience: No prerequisites required
Duration: 30 minutes
Number of modules: Four
Assessment: Final test
Teaching method: Online
CPR Training – aims/objectives
As they proceed through the CPR training course, delegates will cover a range of subject matter based on the following key aims and objectives:
The steps involved in the chain of survival
How to place a casualty in the recovery position
How to resuscitate an unconscious casualty
The modifications recommended for a child and infant casualty
The steps involved in placing a casualty in the recovery position and how to make an emergency call.
CPR Training – course structure
The information provided in the CPR online training course is designed to accompany a practical demonstration of CPR, with illustrations on how to perform chest compressions and breathing techniques referenced throughout to aid learning. Once they have completed all of the required modules in their CPR training, delegates are required to complete an online test comprising 12 randomly selected questions, which will consolidate all of the course content. Once they have passed this test, delegates will be able to immediately print and download a certificate outlining their competence in CPR training.
CPR Training – course outcomes
After the successful completion of their CPR training online, delegates will be able to confidently assist anyone who may be experiencing cardiac failure. They will be fully competent in carrying out basic CPR to provide life support to casualties of all ages, as well as understanding more advanced resuscitation techniques and the importance of the recovery position as a life-saving technique.
CPR Training – who is it suitable for?
As well as those responsible for health and safety within their organisation, the CPR training course is suitable for any employees who want to know how to perform CPR in the event of an emergency.
CPR Training – course overview
The main sections covered in the CPR training course are as follows:
CPR Overview
Early CPR
Defibrillator
Recovery Position
Final Test.
If you would like to participate in online CPR training for more than 20 people, fill in the form below and we will be in touch.
---
choosing a selection results in a full page refresh