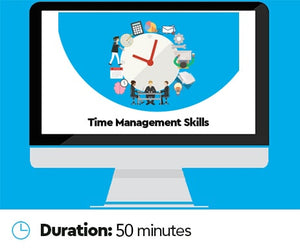 SOCOTEC
Time Management Skills
Regular price
£20.00
£18.00
Unit price
per
 It's easy to become distracted or overwhelmed when trying to fit all your activities and tasks in a day. While we can't increase the amount of hours in a day, learning how to manage your time efficiently can help you get through the tasks you need to do in order to give you more free time to spend on the things you enjoy.
Time management and your health
Not only does poor task management prevent you from performing at your best at work, but it can also have a negative impact on your mental health by increasing levels of stress. The National Health Service (NHS) advises that practising efficient time management can give you more control over your day, helping you to feel more relaxed and focused.
Efficient time management will also give you more time to focus on looking after your health such as taking time to exercise, cooking fresh meals or having time to yourself to meditate.
What does the Time Management Skills course involve?
This Time Management Skills course will detail the techniques needed to help you manage your time more efficiently and effectively, helping you to achieve a work-life balance. Time management techniques include steps that you can take to improve your organisation, setting goals and prioritisation.
The course will help you to identify time wasters in the workplace and how to deal with them. You will also be given some example schedules and to-do-lists to help you create your own.
Key points
Suitability: All audiences
Experience: No prerequisites required
Duration: 50 minutes
Assessment: Online final test
Teaching method: Online
Aims/objectives of Time Management Skills training
This Time Management Skills training aims to equip delegates with the techniques needed to manage their time efficiently and effectively so that a work-life balance can be achieved.
Time Management Skills course objectives:
Explain how time management can improve your mental and physical health.
Provide the techniques needed to manage your time such as adopting a positive mindset, efficient organising and setting SMART goals.
Learn how to create an effective to-do-list.
Discover the skill of allocation.
Identify how to recognise time wasters and how to deal with them. 
Structure of Time Management Skills training
This Time Management Skills training uses scenario-based learning for an engaging experience. The training includes a branching scenario where delegates decide what the character does next to help them practice decision making skills when managing time.
Time Management Skills course outcomes
Upon completion of the Time Management Skills online course, delegates will be able to:
Understand the mental and physical health benefits of time management to decrease their own stress and gain more control over their days.
Identify techniques such as setting SMART goals and efficient organising to improve time management.
Feel more confident in dealing with individuals who might be wasting their time.
Create a to-do-list and schedules to structure their time.
Know how to allocate tasks accordingly.
Who is Time Management Skills training suitable for?
Time Management Skills training is ideal for anyone looking to create more structure in their day to help regain control over their work-life balance. This course is also suitable for anyone wanting to improve their time management in the workplace to enhance their work performance and reduce stress.
Overview – Time Management Skills
Main sections in Time Management Skills online training include:
Course introduction
How to get started with time management
Avoiding time wasters
Final test – 10 questions with a pass rate requirement of 70%
Once you have completed this 50 minute Time Management Skills course and passed the final test you will be able to download and print your completion certificate.
Looking to book online Time Management Skills training for over 20 people? Use the form below and we'll get back to you with a quote.
---
choosing a selection results in a full page refresh