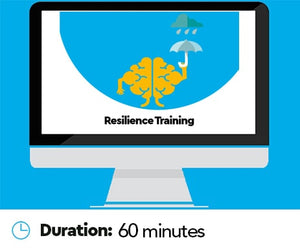 SOCOTEC
Resilience Training
Regular price
£20.00
£18.00
Unit price
per
What is resilience?
Throughout life, there will almost certainly be periods of time and situations which are challenging and difficult to manage. These could be things like relationship breakdowns, illnesses, losses, stressful work environments or missed targets at work. An individuals' ability to stay mentally well during those times is known as resilience. It is understood as a person's ability to adapt when they face adversity and maintain their wellbeing.
Why is resilience important?
Your ability to cope through distressing and challenging life events is strongly linked to your wellbeing. If you cope negatively, this could lead to difficulties with your mental health, such as depression. Resilience training helps you to improve your ability to cope positively with adversity, so you can build resilience, learn from your experiences and maintain your mental wellbeing.
What is resilience training?
This online Resilience training refers to building resilience within four main areas – mental, emotional, social and physical. It incorporates practical techniques to develop your capacity to cope positively with inevitable challenges throughout life and in the workplace.
Key Points
Suitability: All audiences
Experience: No prerequisite required
Duration: 60 minutes
Assessment: Online final test
Teaching method: Online
Aims/objectives of Resilience training
This Resilience training aims to increase delegates' understanding of resilience, techniques to help build emotional and mental resilience, and guidance on how to incorporate these into daily life.
The Resilience course objectives:
Explain what resilience is in terms of mental health and wellbeing.
Provide techniques such as the ABCDE model, self-regulation positive self-talk and opposite action, that can support you to respond in a healthy and positive way to adversity.
Describe a number of ways to help you build emotional resilience, with ideas and techniques such as mindfulness, setting SMART goals, labelling emotions and identifying your values.
Explore the benefits of physical health and social connectedness, how these can help to build resilience and improve your daily life.
Structure of Resilience training
This interactive Resilience training course uses case studies, quiz questions and active learning to support delegates to achieve the learning outcomes. It also provides downloadable PDF worksheets which can be utilised to help delegates to develop and build their resilience.
Resilience course outcomes
Upon completion of the Resilience online course, delegates will be able to:
Understand what resilience is, in the context of mental health and wellbeing.
Utilise a variety of techniques to improve and build their emotional and mental resilience.
Recognise the importance and benefit of physical health and social connectedness to building resilience.
Who is Resilience training suitable for?

This course is ideal for anyone who wants to increase their knowledge and understanding of resilience, along with learning and practising tools and techniques to build resilience, increase their capacity to cope positively with adverse life experiences and improving their daily-to-day life.
Overview – Resilience training
Main sections in Resilience online training include:
Course overview
Defining resilience
Importance of sleep
Identifying values
Techniques to build resilience
Benefits of physical health and social connections
Final test – 10 questions with a pass rate requirement of 70%
Once you have completed this 60 minute Resilience course and have passed the final test you will be able to download and print your completion certificate.
Looking to book online Resilience training for over 20 people? Use the form below and we'll get back to you with a quote.
---
choosing a selection results in a full page refresh