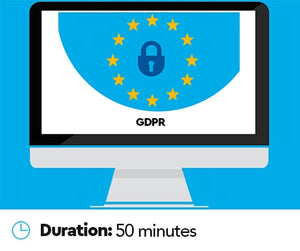 SOCOTEC
General Data Protection Regulation (GDPR)
Regular price
£20.00
£18.00
Unit price
per
What is GDPR?
The General Data Protection Regulation (GDPR) is a data protection and privacy law in the European Union (EU). The GDPR legal framework sets guidelines on how an individual's data can be used, aiming to protect personal information.
An understanding of these concepts is necessary for anyone who processes data as part of their work.
GDPR online training
This General Data Protection Regulation (GDPR) online training covers the GDPR principles, the differences between the GDPR and the Data Protection Act, what the changes mean for those who process personal data and what is required to remain compliant.
The GDPR training explains the principles of processing data and the legal bases for processing. Training also discusses the improved rights individuals have under GDPR and how GDPR applies to employees and their daily tasks.
Key points
Suitability: All employees and employers
Experience: No prerequisites required
Duration: 50 minutes
Assessment: Online final test
Teaching method: Online
Aims/objectives of GDPR training
This GDPR training aims to provide delegates with an understanding of GDPR and its purpose. The course is designed to support your organisation with understanding your responsibilities with data protection and GDPR to help you remain compliant while carrying out your work.  
The GDPR course objectives:
Explain the purpose of data protection
Define the seven GDPR principles, along with the terms associated with data protection
Provide an understanding of your responsibilities regarding data protection law
Structure of GDPR training
This GDPR online course is delivered through four online lessons.
A scenario-based learning approach is used throughout the course to help improve understanding of how GDPR relates to everyday tasks employees might encounter.
Lesson 1 – Overview:
EU Data Protection Directive 1995 and the UK Data Protection Act 1998.
Reducing the level of national data protection variation across member states of the EU with GDPR.
Appling

GDPR

to organisations based in the EU and organisations based outside the EU if they process the personal data of EU residents.

GDPR 

and financial penalties for non-compliance with data protection.
Lesson 2 – Roles and data:
The role you play in relationship to GDPR.
Your responsibilities under 
What is personal data?
Location data and online identifiers.
Processing personal data and consent.
Obtaining explicit consent for special category data.

Protecting

children's personal data used for online activities with GDPR.
Lesson 3 – GDPR principles:
Overview of the seven GDPR

principles on personal data and processing.
Complying with GDPR principles.

The

accountability principle for data controllers and processors.
Privacy and the design of systems.
Lesson 4 – Individuals' rights:
The right to obtain information.
The data controller and data charges.
What happens if rights are infringed?

Transfer

restrictions of personal data outside the EU.
GDPR course outcomes
Upon completion of the GDPR online course, delegates will be able to:
Describe what GDPR is and how it differs from the Data Protection Act.
Recognise who GDPR applies to, along with responsibility and roles with regards to protecting personal data.
Explain the seven GDPR principles.
Understand individuals' rights to obtain information.
Who is GDPR training suitable for?
This course is ideal for all employees and employers who handle data and are required to protect it.
Overview – GDPR course
Main sections in the GDPR online training include:
Course overview
Your responsibilities and GDPR
The seven principles of GDPR
Rights on obtaining data
Final test - 10 random questions with a pass rate requirement of 70%
Once you have completed this 50 minute course, you must pass the final test to download and print your completion certificate.
Looking to book online GDPR training for over 20 people? Use the form below and we'll get back to you with a quote.
---
choosing a selection results in a full page refresh