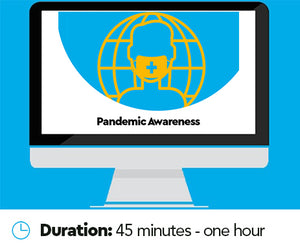 SOCOTEC
Pandemic Awareness
Regular price
£20.00
£18.00
Unit price
per
Please note: The Pandemic Awareness course now includes updated information to reflect on current health advice for coronavirus. 
Key points
Suitability: All employees and employers
Experience: No prerequisites required
Duration: 45 Minutes
Assessment: Online final test
Teaching method: Online
A pandemic occurs when there is a worldwide spread of a new virus in the human population. A pandemic is usually caused by the emergence of a new virus strain or subtype against which, the human population has no immunity. Due to this lack of immunity, the virus becomes easily transmissible between humans over a large geographical area and spreads rapidly from person to person.
Epidemic vs pandemic
There is a difference between pandemics and seasonal outbreaks or "epidemics" of influenza. Epidemics tend to be self limiting and only spreads though one or a collection of communities and are caused by sub-types of influenza viruses that already exist in the population. A pandemic occurs over a wider geographical area and affects the human population on a larger scale.
Pandemics in recent years
Although pandemics have been observed for several hundred years, the best-documented pandemics have occurred during the last century. These include:
Spanish flu  - 1918/19
Asian flu - 1957/58
Hong Kong flu - 1968/69
For further information on pandemics visit Public Health England.
The Pandemic Awareness course has been updated to reflect current health advice for Covid-19 (coronavirus). For further information on coronavirus, please visit one of the following websites:
Aims/objectives of Pandemic Awareness
The Pandemic Awareness course aims to provide delegates with an understanding of how good hygiene prevents contamination in the workplace. Other protection measures are also discussed and include vaccinations. This course is designed to support and complement your organisation's efforts to implement effective control measures in preparation for the possible spread of a virus.
The Pandemic Awareness course objectives:
Give an understanding of what a pandemic is and how a pandemic spreads.
Describe the signs and symptoms of pandemic flu. 
Advise employees on how to protect themselves from infection.
Show employees where to access the latest information on pandemic flu.
Structure of Pandemic Awareness training
This Pandemic Awareness online course explains the difference between pandemics and epidemics, along with outlining how a virus can spread and the physical symptoms associated with a virus. The online training offers advice on the course of action if medical assistance is needed and highlights how good hygiene can stop the spread of a pandemic in your workplace. In addition, this course discusses those employees who are more at risk of infection. The course also offers a wider social benefit to the public, educating users in preventative measures that can help reduce the risk of transmission.
Pandemic Awareness course outcomes
Upon completion of the Pandemic Awareness online course, delegates will be able to recognise how a virus spreads and provides practical advice on the most effective procedures to promote personal safety and awareness.
Who is Pandemic Awareness training suitable for?
As well as being suitable for managers, supervisors and those with planning responsibilities, this course is ideal for all employees wishing to raise their Pandemic Awareness.
Overview – Pandemic Awareness course
Main sections in the Pandemic Awareness online training include:
Course overview
Swine Flu information
Health advice related to coronavirus 
Personal and workplace protective measures
Final test - 10 questions with a pass rate requirement of 70%
Once you have completed this 45 minute course, you must pass the final test to download and print your completion certificate.
Looking to book online Pandemic Awareness training for over 20 people? Use the form below and we'll get back to you with a quote.
---
choosing a selection results in a full page refresh